Hi all,
I have started selling the American made 'GripZies' product and it's going very well at shows. I was REALLY sick of hearing potential customer's saying 'Oh, those clips are so cute, but they fall out of my little one's hair' that I have turned to these and am now wholesaling them. Funnily enough, they actually work and are much easier than gluing shelf liner to a clip!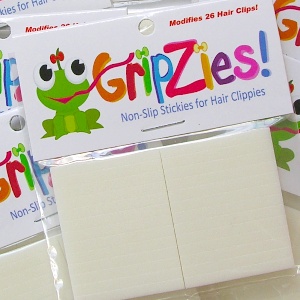 Here's the blurb about them:
"Our patent pending GripZies! is free of latex and
toxins and will conform for a "gap free no slip grip".
Knock-off products that contain latex (commonly
found in shelving liners, cosmetic sponges and other
foam/sponge materials) may be fatal to those with
nut allergies (dangers of latex).
Features and Benefits:
- Quick and Easy Peel and Stick Application
Soft Conformable Foam that provides a
comfortable "Gap Free No Slip Grip"
- Small Matchstick Design 1/8'' x 1 1/4''
- Each pack modifies 26 hair clips giving you the
freedom to pick and choose the hair bows and
hair clips you like, and make them into no slip
hair clips that stay put.
- Increases the value and quality of your products
by making them into no slip hair accessories.
- Great for infant, baby fine, hair!
They are all in retail packs (like the pic here) and can be resold at shows. The RRP is $3.99 USD per pack, but as this product is unique to Oz (I haven't seen anything like it before anyway!), you might be able to get more. I sell mine for between $4 and $5 per pack and people don't seem to flinch!
Now for the important bit
- As this is an introductory offer, I will sell the packs to you ladies for $2.00 each (plus postage - actual postage cost only!). Buy one or 100! - Offer stands until midnight 25 March (2 weeks only!)
PM me if you're interested.
Gena