Hey Ladies,
I have been asked to do a buy for my LV printed ribbon that I carry (this picture isnt true to colour)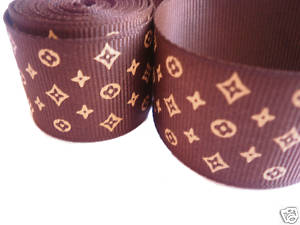 I will be ordering it in the brown and tan and also
white ribbon with
150 Pink
340 Turquoise
030 black
780 Rust
553 Fern Green
Could maybe even do black with the above colours but change the black print to white if there is enough interest. It will be 7/8 ribbon at a cost of $24 the brown and tan and $27.00 for the one with the 5 colours per 100yds. If you dont need a 100yd roll maybe someone may be intersted in sharing a roll just let me know and I will try and match people up.
there will be a 10% postage charge on top for postage from supplier to me. I will try and close the in 5 days which will be around the 5th March. If there are any other ribbons especially solid and swiss dots I can order these with this ribbon so just let me know and I will arange it for you
Trace